When the going gets tough...
So, finally James Bunton (36) was going to tackle that tree house in the garden for the boys. He had already gone and gotten the wooden planks. Now it was just him against time: He had two weekends to finish the project in time for the birthday of his eldest son.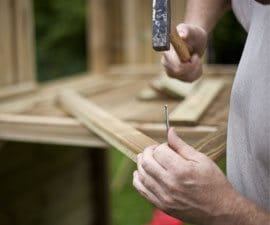 © Hansaplast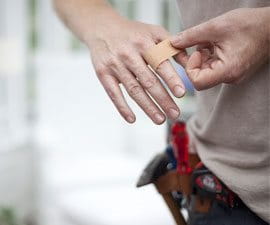 © Hansaplast
One Saturday James Bunton got down to it: Assembling, hammering, drilling. It was fun. It started to rain. He didn't even mind. But suddenly…one of the longer nails went into his left thumb and he was afraid he had to abort the whole mission. The wound bled and hurt like hell.
TOUGH JOBS NEW NEAT PLASTER
James Bunton knew: Not only a well-equipped tool kit is essential to get a job done smoothly – the right plaster is, too. So he tried Elastoplast EXTRA TOUGH WATERPROOF. And yes, not only did it protect his wound and allow him to continue. It also still stuck at the end of the day. Even when he washed his dirty hands later on. He had gotten a lot done, and hadn't even noticed he had been wearing a plaster. His son's birthday surprise was saved, after all.
What Makes Extra Tough Waterproof So Special?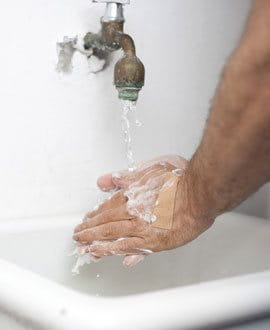 © Hansaplast
1. It is the first
textile plaster
that is waterproof
Garden work or washing the car? No problem. Thanks to its innovative and breathable Hi-DRY TEX material, EXTRA TOUGH WATERPROOF will let you get on with your work and chores even in contact with water, without the plaster coming or peeling off. And thanks to its Hi-DRY Tex technology (read more about it here) the plaster is equipped with a special membrane layer to make it waterproof and breathable at the same time.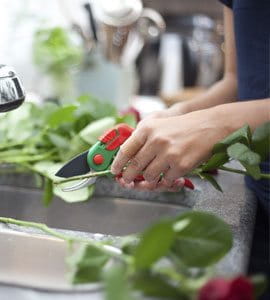 © Hansaplast
2. This plaster
really sticks!
Ever been annoyed by flimsy plasters that come off too easily? Nothing you want to worry about when working with your hands. That's why the strong adhesion of Elastoplast EXTRA TOUGH WATERPROOF will leave the plaster in place, where you want it, as long as you need it. No matter if you are building a garden shed or washing your car – you can just keep on doing what you're doing.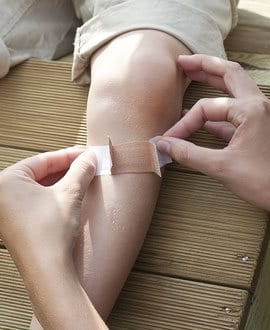 © Hansaplast
3. EXTRA TOUGH
WATERPROOF is sturdy,
yet flexible
EXTRA TOUGH WATERPROOF is made up of several protective layers: It consists of a comfortable wound pad, a membrane layer and an impregnated textile layer. These make the plaster breathable and waterproof at the same time. And what's more: the extra resistant and heavy duty fabric will not only deliver extra strong protection for your wound, but will also stretch and feel comfortable.
Now you know what the plaster does.
Behind all this there is a new technology called Hi-DRY TEX.
Elastoplast developed this three-layer technology for improved wound protection and the demands of working in everyday and DIY situations. Hi-DRY TEX technology makes the plaster waterproof, breathable and ensures strong adhesion. Due to its integrated coverage of an impregnated, heavy duty fabric and a waterproof, yet breathable membrane. The flexible fabric ensures not only utmost comfort for you, but also protection from moisture and water for your wound.
Your convenient household and DIY plaster EXTRA TOUGH WATERPROOF protects wounds optimally and sticks reliably. It is
- waterproof: you can keep working around water
- durable: it won't come off easily
- breathable: meaning more wearing comfort for you
- flexible: fulfills your needs in daily routine
and features a large, extra absorbent wound pad for optimum coverage. Choose between dressing length, assorted shapes (for example the convenient finger strips suited especially for fingers) or regular strips.
This Plaster Really Delivers!
Always see your doctor if the wound is deep, bleeding or shows signs of infection like reddening, swelling or warmth.
Also make sure to seek medical help if you are not able to clean the wound properly.
In case you have diabetes a proper wound care is of special importance. Always discuss any concerns you may have with your doctor and/or podiatrist, even for the care of minor wounds and skin cracks – especially on your feet.

Please note that none of the above given tips or recommendations substitute medical advice. Carefully read the instructions for use given in our products' packages. Important: consult a health professional in case of any uncertainity of treating your wound properly.

The information provided through this website should not be used to diagnose or treat a health problem or disease. It is not a substitute for professional care or advice. If you have or suspect a health problem, you should consult your doctor. Never disregard professional medical advice or delay in seeking it, because of something you have read on this website.
For further information regarding Elastoplast products, please contact us via email on phc@beiersdorf.com. Carefully read the instructions for use given in our products' packages.